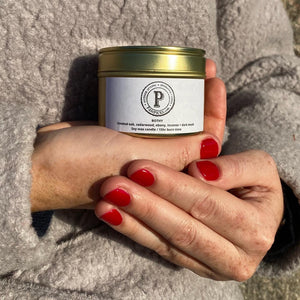 SOLD - PamPicks Bothy Candle by Gorse + Still
NEW - PamPicks Bothy Candle by Gorse + Still
Uplifting home fragrance is the perfect way to relax - something we all are in need of just now!

In collaboration with fellow independent woman in business Gorse + Still I'm excited to introduce Bothy Luxury hand crafted & hand poured Candle from their range.  A fan of this award winning Scottish brand since the beginning, their niche boutique candles smell simply divine.  I'm privileged to have my name on their product.  As the only stockist in Aberdeen & Perthshire...they're now officially available to purchase!
Adventures in the wilderness, Long hikes & late bothy nights, cosy nights in front of the fire. This aromatic scent will add a rich sense of depth & sophistication to the space.
  With a blend of
 Smoked Oak, Cedarwood, Ebony, Incense & Dark Musk.
The candles are hand crafted & hand poured using a soy wax. Cotton wick. Brass tin with glass lid.  15 hours burning time.